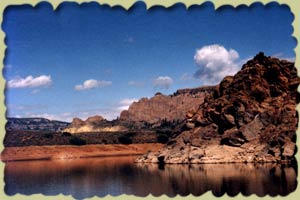 We are conservation developers and consultants, landowners, and breeders of registered American Quarter Horses. Our 1400+/- acre operation in Gunnison County, Colorado lies just south of Blue Mesa Lake and borders Curecanti National Recreation Area.

Under our stewardship since 1994, the 1400 acre property is shared with homeowners, horses and native wildlife (including the elusive Gunnison sage grouse). Conservation easements have been donated to The Nature Conservancy to insure the long term viability of the ecosystem. We are committed to sharing the property with a handful of people who echo our passion for the past and vision for the future.

Similarly, our quarter horse program combines solid bloodlines of the past (e.g. Quick M Silver and Three Bars) with a natural environment that provides foals and mares lots of room to roam and grow.

In short, we believe, there's no better partner than Mother Nature.