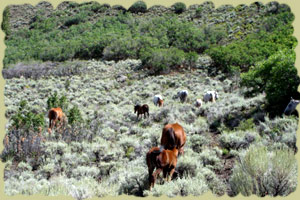 In keeping with our motto, "There's no better partner than Mother Nature" we raise our quarter horses at two unique properties. Mesa Valley Ranch, Gunnison, Colorado, at 8,000 feet, provides the perfect elevation for breeding and foaling in the Rocky Mountains. Rio Grande Sanctuary, Monte Vista, Colorado, at 7500 feet, is located on the banks of the Rio Grande River. The Sanctuary showcases two private ranches that combine lush river bottom pastures with cottonwood canopies and natural water features. The ranches encompass 500+ acres of native grasses, for year-round grazing and lots of room to roam and grow naturally.

Foaling occurs in May and June at Mesa Valley Ranch. During the first 8 weeks of life, foals are encouraged to be people-friendly. Through a daily training program, they are taught to halter, load, and have their feet handled.

Once their "people skills" are imprinted and their mothers are safely in foal, the mares and foals join the herd. While grazing mountain pastures, our horses develop sure footedness, agility, and a natural willingness to cross water. Our saddle horses, broodmares, yearlings and two year olds run together, giving each foal the time to develop naturally under the watchful eye of older, experienced horses.

We check our herd daily; gather the herd four times a year for vaccinations, worming, foot care, branding, weaning, and foaling. As long two year olds, our horses are sent to trainers to complete their educations.

Each horse leaves our program with the advantage of generations of selective breeding, an education of natural skills and the desire to please its human partner for a lifetime.